There's subtropical lushness around every corner at these stunning gardens on the banks of the Helford River. The views from the 18th Century house across the gardens to the river are not to be missed. Wend your way through camellia groves and chusan palms, woodlands and bamboo; meander alongside pools and streams, giant-leafed gunnera and hydrangeas, to emerge onto Trebah's private beach. Perfect for a swim and a picnic in summer. Not picnic weather? Head to the Planters Cafe (winner of the 2008 Cornwall Tourism Award for Popular Restaurant/Cafe of the Year) or have a browse in the gallery and plant shops. One of Cornwall's, if not England's, finest gardens.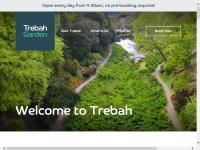 Visit Website
Trebah Garden
Mawnan Smith
FALMOUTH
Cornwall
TR11 5JZ
Telephone
01326 252200
Lovely day out
We had a lovely day at Trebah in March. There were lots of colourful Spring plants including all the rhododendrons, camelias and magnolias, and a sea of fascinating gunneras that were starting to come out. When they are fully grown, the leaves can reach 2.5m across and there is a gunnera passage where you could walk underneath them. There's also some giant bamboo and many interesting paths up and and down to the beach. We had a lovely lunch in the cafe and all in all, a great day out. Check the website and make sure you book in advance as they were only accepting pre-booked visitors. Also check the cafe closing time on the beach (ice creams etc) as it closed at 3pm when we were there.
Wonderful exotic gardens
We visited in February and were surprised by how warm and mild the atmosphere was in the gardens. What a wonderful variety of plants, shrubs and trees! well laid out paths allow the visitor to wander around the grounds to access different view points. The beach at the bottom of the valley was a lovely surprise. We particularly liked the water feature cascading down the valley.
Excellent cafe in a delightful light and airy modern building. The entry fee is reasonable and good value for money.
A disabled persons opinion
I was really looking forward to visiting Trebah but was really disappointed, I was only able to go out of the reception building in my wheelchair when I was faced with the most sever decline and was told that it was like that all the way. It was very unsafe for me to go any further, so had to turn round and go out of the gardens
Beautiful gardens and beach
Well worth a visit. Really incredibly, calming gardens with excellent covid measures in place to feel safe. The private beach is just lovely, worth the short queue to get in (controlled by a traffic light system to ensure not too many people are on it are time). Nice cafe with gluten free options. A very good day out, would highly recommend.
You won't be disappointed
What a wonderful place to lose yourself in nature discovering plants I had never seen before and some looked like they stepped out of Jurassic Park! We stayed into the evening for a fantastic Miracle Theatre production in the Amphitheatre called The Magnificent Three which was absolutely brilliant, great story, great cast and highly recommended, I will be looking out for their next production. Overall a very pleasing day with ice cream on the beach too, what more could you want!
A mini paradise
This was such a wonderful find. A complete tropical paradise hidden away down the creek. You really feel like you have disappeared to a magical world here and it's a great place to escape. Beautiful water gardens and walks through the woods, which eventually lead down to a private secluded beach. Would happily come here time and again. Lovely cafe as well and there's also a cafe on the beach.
Nice family day out
We visited the gardens on Father's Day (three generations of us!) and it was a lovely day out. It was interesting seeing all the exotic plants and following the path through the gardens to the private beach at the end where an ice cream sat on the beach is a must! The adventure play areas within the gardens were great for the kids.
Trebah Garden
A really delightful garden with much to see. Although steep in places, there are plenty of benches to rest before venturing further.

The glimpse of the sea as you wend your way through the garden is really beautiful and really well worth the trip down to the bottom.

Well worth a visit time and time again.
Gets better every time
We love Trebah Gardens, they are also dog friendly, though unfortunately we did see evidence that some dog owners were not respecting the fact that clearing up is a must if this is to continue. We really enjoy walking around the gardens and always spend at least three hours doing so. Always something different to see. Already looking forward to our next visit.
We enjoyed that they are clearly continuing to develop and work on the garden in the 5 years since we last visited. Cafe very good and plenty of sheltered outdoor space. Plenty to see in May and an icecream on the beach was a great treat.
1
out of
1
person
found this review helpful.
Worth a visit, even on a wet day. The cream tea in the cafe was so good there is no chance it could ever be matched anywhere else. Enjoyed the shop too. We spent 2 hours in the property although it's not all that large, including time at the cafe. It's advisable to go early when it's really quiet.
Suitable for young and old
I would recommend this garden for anyone. The walks around the garden can be taken at any pace and are endlessly fascinating for young children as well as older relatives. Even those who may not be as agile as they once were will be able to manage a good deal of the garden and there are plenty of places to stop, admire the view and rest. The staff are very helpful, always ready to discuss an unusual plant and the cafe is run by a group of very cheerful women, who provide simple but delicious food.
4
out of
4
people
found this review helpful.
A beautiful place, starting with formal gardens at the top, winding down through subtropical exotica to a small beach. We once went there on a winter's day where there was snow at the top of the garden and brilliant sunshine once you went through the doorway onto the beach; my children said it was like going into Narnia!
3
out of
3
people
found this review helpful.