Previously known as The National Seal Sanctuary, abandoned and injured seals are brought here to be nursed and rehabilitated before being released back into Cornish waters. Feeding time is always quite a spectacle.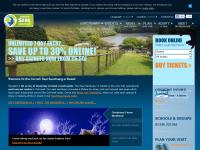 Visit Website
The Cornish Seal Sanctuary
Gweek
HELSTON
Cornwall
TR12 6UG
Telephone
01326 221361
A few hours distraction but fairly costly
We went to Gweek when the Lizard was shrouded in cloud, so did not benefit from views of the presumably lovely Helford river. The admission cost for a family of 3 + baby was fairly high for what was only a two hour visit on a damp day.

The main site is quite a way away on a "land train" (land rover and trailer with seats). Son 1 was pleased to see the seals and feed them mackerel. We didn't bother going to see the otters down the muddy track, 1/4 mile away from the main site. Staff were very interesting and informative, but the cafe could only offer cake or two choices of sandwich for a hungry Mum at 2.30pm.

I would not go back unless the kids were older and had a big conservation interest. There are other better ways to spend our time (make your own nature train in the woods for free!) without having the only way out available through a cramped shop groaning with overpriced tat and in your face 'pick-and-mix' sweets.


5 Stars
Jun 2012
Mr Bowry
Well worth a visit
We have been here before, but this time we saw only a few seals. This is wonderful as it means that the seals are doing well. The hospital was empty, as were a couple of the enclosures. In fact there were only the resident seals plus a couple of others on show. This is not a problem, this is good news. The ones there put on a good show at feeding time. The penguins were a delight as were the otters. We also had a display of birds of prey, an eagle owl had its eye on our little dog so we put her out of sight. Don't miss the nature trail. It is all part of a day out. Thank you to all who devote there time to such a good cause.
1 Stars
Sep 2011
Dr Mascord
Very expensive for what you get unless you see this as a contribution to seal rescue. Access is via a steep path or on a rather bumpy land train. Staff are generally informative and some very focused on visitors. The sanctuary is family friendly and children enjoy the feeding sessions. However the observation areas are in some cases limited. If rescuing seals is something you want to pay for then this is for you
3 Stars
Sep 2011
Miss Manners
I was disappointed with the experience at the Sanctuary. Arriving at 10 when it opened the hospital was shut, as were the kiosk and the cafe. I imagine it is busier during the winter when the weather is bad and more pups are lost/abandoned and perhaps one should not wish for animals to be in peril just for humans to be able to look at them. I enjoyed the penguin pool, but viewing other pools at feeding time was nigh on impossible unless one was first on the scene. Sorry to be negative as I know the Sanctuary does marvellous work, but it was expensive and I did not feel humans were as well cared for as the seals.
4 Stars
Jul 2011
Mrs Ritchie
This is a remarkable santuary, the seals are a joy to watch especially at feedtime, but their antics in and out of the water are so entertaining - although this is not a circus. All seals that can be released are so as soon as they are fit and healthy. Remember to visit the penguins and otters. A fantastic location right by the river.
5 Stars
Nov 2008
Mr and Mrs Milne
3 Stars
Aug 2008
Mrs German
5 Stars
Jul 2008
Mr Henthorn
Rewarding and Fun
To see the seals this close up in an environment that has obviously been designed in consideration of their comfort is a real treat. The rehabilitation work carried out here is inspiring and the devotion of the staff to the animals' welfare and their knowledge of the animals really shines through. Dogs are permitted here on a lead.