With a cider works, farm shop and tea room, you will find plenty to keep you occupied here. The shop offers cider tasting so you can be sure of your choice before you buy.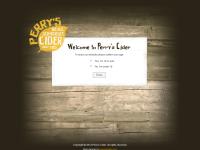 Visit Website
Perry's Somerset Cider
Dowlish Wake
ILMINSTER
Somerset
TA19 0NY
Telephone
01460 55195
I bought a barrel...
A tiny Somerset hamlet called Dowlish Wake is home to this traditional cider making centre. Tempting samples from the barrels are a must before you decide on which variety to take home. I am afraid it had to be a gallon for us and even more unfortunate – it is within easy reach of home for return trips to refill the container ! There is a shop, café and all things apple making museum here too. This place feels like a step back in time, even down to crossing the ford from the orchard parking area !