The remains of Tintagel Castle are at the heart of Arthurian legend. The location of the castle is spectacular – half a mile outside of Tintagel, across rugged clifftops, with no vehicular access. Tintagel Island, attached to the mainland by a sliver of land, enhances the wild and romantic atmosphere.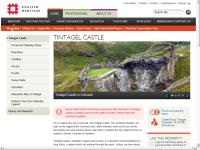 Visit Website
Tintagel Castle
English Heritage
Castle Road
TINTAGEL
Cornwall
PL34 0HE
Telephone
01840 770328
2 Stars
Sep 2020
Mr Elsey
Still looking for Camelot
There are fantastic views at the top but the castle it's self is very disappointing.
There's not really much to see of it .
The bridge is a wonderful peace of engineering.
But for us the best part was down on the beach were Marlins cave is .
The best part of that is its the free bit of the attraction. Basically we paid £16 each for a walk on a bridge and a fantastic view.
You can get that anywhere on the coast of Cornwall for free.
5 Stars
Oct 2015
David Brear
Take your time
Leave unsteady members of the family at the café while more active members tackle the many uneven, high, sometimes slippery steps (handrails are provided - use them!). Enjoy the excellent information centre which uses an innovative overhead projector to show the succeeding occupations of the site. There is a café and toilets, and a Land Rover to run you down and back if the walk down the valley isn't for you.
This is a uniquely precious historical site, the first to show how dark age Britain was actually still firmly connected to Mediterranean civilisation. Its legendary connection to king Arthur led to the construction of the Norman castle, but don't let the historical fiction mislead you - this is a real site where hundreds of people lived and traded for centuries at the edge of the Atlantic long before the Saxons took over Cornwall. The dramatic cliffs, the birds, the butterflies will all make this a day to remember.
5 Stars
Apr 2012
Mrs Harding
5 Stars
Oct 2011
Mrs Lansley
Tintagel and Trebarwith Strand
Although we stayed an hour away it was really worth the visit. My second visit in 10 years and so nice to see nothing had changed. Extremely steep slopes to climb - good steps and rails to hang on to but no access for wheelchairs or disabled! You must go on a good sunny day to take advantage of the views around. Always windy and blowy there.

Trebarwith Strand is just around the corner and is so worth the visit as the rock formation to get the beach is really worth seeing. Very natural but again no real access for wheelchairs or disabled really.