One of England's oldest working ferries, the Teign Ferry provides a regular service between Teignmouth and Shaldon across a picturesque harbour estuary. The first recorded service across the Teign dates all the way back to the 10th Century.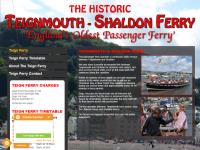 Visit Website
The Teign Ferry
TEIGNMOUTH
Devon
Telephone
07760240927
5 Stars
Jun 2019
Mr Burgher
The friendly seal
The Teign passenger ferry ploughs its way from Shaldon beach to Teignmouth and back just about every day of the year. It is great fun for the children and if you are lucky you might spy the friendly grey seal that pops its head up in the estuary from time to time. Look out for cormorants diving for fish and if the water ripples - then a whole shoal of mackerel or other small fish are under the surface.
2
out of
2
people
found this review helpful.