Local, ethical produce is the ethos at the River Cottage Local Produce Store. Hugh Fearnley-Whittingstall, of Channel 4's River Cottage, and team, source the best local produce from South West producers for the store, where regular tasting evenings and events are held.
With a different menu every day, reflecting what's in season, The Canteen also showcases the best of the South West, with mouthwatering meals and a wicked selection of cakes and cream teas. Reservations recommended for evenings and Sunday lunch.

River Cottage HQ Cookery School
Nearby, on the Devon Dorset border is the famous River Cottage HQ where you can dig deeper into the River Cottage philosophy and learn how to recreate some of those fabulous dishes. Hugh and the team run a wide range of events and day courses including bread baking, chicken rearing and meat curing at Park Farm between Axminster and Lyme Regis.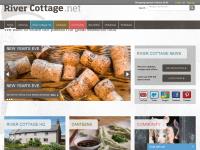 Visit Website
The River Cottage Store and Canteen
Trinity Square
AXMINSTER
Devon
EX13 5AN
Telephone
01297 631715
Exciting and unassuming
I have always been a big fan of the River Cottage brand so as soon as I was in the area I arranged to have lunch with a friend here. We were both travelling from opposite sides of the country to meet there, by which time it was about one thirty. You cannot book so we were concerned we might not get in, but we only had to wait a couple of minutes before being seated at a very rustic (possibly recycled/reused) wooden table in what felt like a barn/outhouse. It definately wasn't posh, but it was light and airy and very 'countrified'. The menu each day is written on a big chalk board and by the time we got there the choice was somewhat limited as lots of things had run out. However, what we chose was tasty, not too overpriced, and a twist on a classic. We very much enjoyed our lunch there and had a good mooch around the deli/shop afterwards (which you walk through to get to the restaurant), having a good friendly chat with the staff who treated you like an old friend (and ran to get you a glass of water after sampling one of the chilli jams!) I would definately choose it as top of my list for lunch when visiting the area in future, although perhaps not go out of my way to visit it on purpose.
A sunday lunch to die for!
We go to the River Cottage Canteen whenever we are visiting Devon. The restaurent (as the name suggests) does not stand on ceremony, but it is homely and welcoming and you can turn up in walking boots! We've taken family and friends and it is suitable for an impromptu lunch or big family celebration. However what makes it particularly special is the quality of the food, which, thanks to the rearing of the meat by Hugh Fearnley-Whittingstall and his team, and the cooking of the chefs in the canteen, makes for a truly delicious meal. It won't be the cheapest food you've ever eaten, but you can relax in the knowledge that all the food is truly organic and responsibly farmed and that all the ingredients taste just like they should. Highly recommended!