Once the local blacksmiths, this friendly local now hosts monthly folk nights. Drop in for a bite to eat in the beer garden or enjoy a pint of real ale in front of the log fire.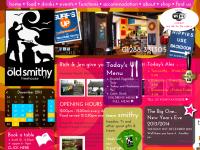 Visit Website
The Old Smithy
Welcome
BIDEFORD
Devon
Telephone
01288 331305
The Old Smithy was great, but with absolutely loads of dogs!
We had a meal there on our first night. The food was good [but nothing exceptional really]. The beer was excellent.
The welcome was great and the general feel of the place was lovely on what was an extremely busy night. There were approx 20 dogs in the bar area, which was ok, but a little overwhelming at times and could have been a bit nerve wracking for younger families!
Probably wouldn't go back for food, but definitely for a drink and a nice time in front of the fire.
5 Stars
Sep 2014
Mrs Shippam
5 Stars
Oct 2013
Mr Williams
Excellent food (beef and chorizo burger was a joy) and very welcoming to us and our four month old daughter. Friendly people and the beer selection looked frustratingly good but I was unfortunately driving. I will definitely go again next time I'm in the area. Real pub, real ale, proper food and friendly people...how a pub should be.
5 Stars
May 2012
Mrs Benning
5 Stars
Jul 2010
Mr Murray