Fine dining on the north Cornwall coast. Food is beautifully prepared and cooked to order. You can also wander around the Victorian gardens which are adjacent to the hotel.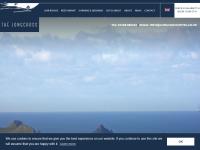 Visit Website
The Longcross Hotel and Gardens
Trelights
PORT ISAAC
Cornwall
PL29 3TF
Telephone
01208 880243
5 Stars
Jul 2012
Mrs Lonsdale
The Longcross Hotel
About 3 miles from Port Gaverne the hotel has wonderful views from its terrace and lovely Victorian gardens. We always visit to have lunch or dinner. The food is always great and the staff friendly and helpful.
1
out of
1
person
found this review helpful.
5 Stars
Jul 2011
Mrs Horry
Wonderful location with beautiful views over the bay. Very child friendly and helpful staff ensure the children are happy with colouring pads and pens so mum and dad can enjoy their meal!!
Wonderful food and not too expensive for the beautiful surroundings. Would highly recommend.

1
out of
1
person
found this review helpful.