The Farmer's Arms is the historic local pub in Devon's 'village with two names'. The original name, Woolfardisworthy, was a bit of a tongue twister, so locals shortened it to Woolsery; one village, two names, one great pub. Stop by and visit the resident ghost.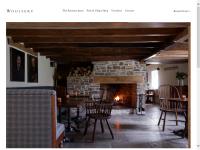 Visit Website
The Farmer's Arms
Woolsery
BIDEFORD
Devon
EX39 5QS
Telephone
01237 431467
Amazing pub!
Really lovely pub. We heard how popular this pub gets so booked in advance, also being aware it's closed Mondays and Tuesdays. We were not disappointed. Great service and delicious home cooked food - I recommend the Shepherds Pie! Our dog was welcome and afterwards we enjoyed a coffee and game of Scrabble upstairs in the Games Room. Really handy being able to walk here from Straw Cottage. The fish and chips next door smelt so good that we went back the next day and they were incredible! Highly recommended.
Great food and friendly staff
Booked online a week ahead for Saturday lunch as all other meal times were fully booked and now understand why as the quality was excellent - one of the best meals we have had for a long time. Was refurbished 3 years ago to a very high standard, waiting staff are very friendly and familiar with the menu - nothing too much trouble for them.