It hardly needs any introduction…This global garden with its iconic Biomes is home to millions of plants and flowers reflecting the diversity of our planet. Marvel at the largest greenhouse in the world, see internationally-acclaimed architecture and art inspired by nature, or go to a gig at the renowned Eden Sessions. Children can learn about humans' complex relationship with nature in The Core interactive education centre or go free-range and explore trails, hideaways and sandpits. A wide range of cafes and restaurants provide delicious, responsibly-resourced refuelling stops and the shop is crammed full of interesting gift and souvenir ideas. An organic project that just keeps on growing, a visit to The Eden Project is an awe-inspiring experience. You can also have a go on the new zip wire, reported to be the longest in England - go on, you know you want to!!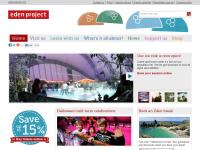 Visit Website
The Eden Project
Bodelva
PAR
Cornwall
PL24 2SG
Telephone
01726 811911
Worth a visit
Worth a visit but look out for discount codes or vouchers as can be expensive to get in but ticket valid for a year.
Visited a few years ago so wanted to revisit to see what had changed or improved. The plants in the domes have grown in to good sized plants. A few more sculptures & places to eat.
Vicki T
Great for families
We've been several times and always had fun. You can get annual tickets when you gift aid your entry which is very worthwhile as it isn't cheap. Went twice over Easter week once going in as it opened and enjoying the biomes in the pouring rain! Core building also great for kids and not as busy as biomes. We went again later in the day another day and discovered that you can have an evening meal in the Mediterranean biome midweek from Easter to October which was a lovely treat and then they give you a lift back up the hill afterwards! Staying til it closes gives you a quieter time too!
A fun day at Eden
Myself and my two children (aged 4 and 7) visited Eden Project during the school holidays. We had a great day out which was enjoyed by all. The Biomes were busy at times but there was plenty of little hideaway places outside to get away from the crowd and recharge the batteries. We took our own picnic so don't know about pricing / food of the onsite eateries but I can say that the ice creams were lovely and in my opinion great value at £2 each.
We went on a rainy day in the summer hols and understandably everyone else had the same idea so it was packed. It was nice to see the iconic biomes and interesting to look round but we thought it was very expensive for what it was - £60 for 4 of us plus we ate there so an extra £40 for that. We also seemed to spend a lot of time queuing for food, to look round the biomes, for the park and ride etc . We would go back but perhaps out of season to have chance to explore fully. We'd also look round for cheaper tickets!!
Have wanted to visit here for many years. It was quite interesting, the Biomes were amazing to look at from the outside. We bought tickets from the tourist information centre before we visited which they sell at discounted prices and also went after 3.30pm when entrance is less. The cakes in the cafe were all a bit stale, at nearly £40 for a piece of cake and a drink for 7 of us we thought they would be lovely and were not so good. Maybe it was a bad day for cake. Glad to have visited, would probably only go once.

1
out of
1
person
found this review helpful.
good value with stores vouchers....
Visited for the first time 10 years ago, and of course in 10 years it HAS changed...more grown up, but we remarked to each other many times that it didn't feel as "magical" as the first time we wound our way down to the domes. The large 'flags' have gone that marked the way down the paths.....perhaps that was it? entrance was £23 each for adults & £9.50 each for kids....So to be honest we really wouldn't have visited had it not been for a certain store voucher scheme that meant we payed £5 each and the kids £2.50 each ...so we did treat ourselves to lunch..£5 for most mains with salad or new potatoes....YUMMY, filling & VERY good value, with free pitchers of water on the tables and help yourself mugs hang above - all very handy. Plenty to see and do although our kids sped around the place and ended up where they REALLY wanted to be..in the shop. A great day out though , as they slept like logs on the way home!
What a wonderful way to spend a day. The weather was perfect for us, but that didn't matter as it would be okay on a poor day at Eden. It was early in the year when we visited but still plenty to see and do.
Had lunch there and it was very good value for money.
We will be back!
We felt that £20 per adult was a lot to pay, yes there was plenty to see; however, on a wet, cold, windy day walking the outside paths was not great.The two domes well worth seeing, but again not worth £40. We came away saying to each other that we felt the Eden Project to be a great Educational Centre for children, schools and colleges to visit, there were other gardens we visited in Cornwall we felt much better value.
1
out of
1
person
found this review helpful.
Amazing
The Eden Project really is somewhere very special. Leave loads of time to look around and I would recommend staying for the evening as this is when the place really comes alive. The lighting and scenery in the evening has to been seen to be believed, it's so beautiful.
Fabulous day out
The biomes are amazing, and the educational centre is interesting too. Watch the film on the making of Eden. It's a good couple of hours long but worth it. With ice skating and gigs playing at this exciting venue too it makes a good day out for all the family.
Eden Sessions and Biomes
My trip to The Eden Project was amazing. I visited in the summer to see a band and included in the ticket was access to the rest of the grounds; we went early and took a trip around the Biomes before the gig started. The sound quality from the open-air gig was fantastic, I would definitely recommend going if you get the chance (but remember tickets sell out fast!).