Situated in the fabulous Quantock Hills, famous for its great walks and cycling, this is a great place to visit for real ales and good food. Children and dogs are very welcome and there's even a special dog menu.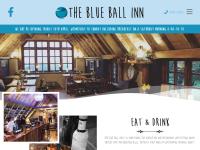 Visit Website
The Blue Ball Inn
Triscombe
TAUNTON
Somerset
TA4 3HE
Telephone
01984 61842
2 Stars
Sep 2021
Mrs Harris
Left disappointed 😗
We were really looking forward to our evening meal at this pretty inn but unfortunately we were left disappointed.
It started well when we arrived , shown to our tables , drinks order taken and menu given for us to choose.
We were the only ones in inn at this point so we were surprised that it took over 20 minutes for them to take our order even though we said we were ready to order!
Once our order was taken (again still only the ones in there) it took over another 30 minutes for a burger and a curry to arrive!
When it did we weren't asked if we needed any condiments or sauces and had to attract one of the staff to get our extras.
Other people arrived and it was obvious how much quicker they were to get served, even when we were eating (food was ok) no one asked if everything was ok , but again noticed how only certain staff did this.
On leaving we overheard that the chef was late in and that was probably the reason for the delay in taking our order. It would just have been polite to inform us of this fact.
So this is our reason for being left disappointed and hence the 2 star rating.