An amazing space for gazing at artworks.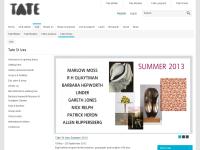 Visit Website
Tate St Ives
Porthmeor Beach
ST IVES
Cornwall
TR26 1TG
Telephone
01736 796226
5 Stars
May 2012
Mr Anderson
4 Stars
Sep 2011
Ms Roberts
Mixed bag of art, generally enjoyable
Very small amount of art collection is on show at one time. the actual art display space is quite limited (there is a bit of an 'is that it ?' feeling when you have been around). However the quality of the art is good, and interactive exhibits such as the balloons in 'half the air in a given space' in 2011, add to the experience. Best coupled with a visit to the Barabara Hepworth collection. Don't expect to spend more than about an hour here. Unlike the Tate in London there is an entry charge, so look out for money off vouchers locally before you visit.
1
out of
1
person
found this review helpful.
A superb introduction to 20th century Cornish art - Don't miss the Barbara Hepworth gallery
This is the perfect place to see and learn more about contemporary Cornish art. The collection boasts a number of Alfred Wallis's works, and those of other influential artists right up to the present day. Your ticket also allows you in to the Barbara Hepworth gallery, a short walk through the narrow streets of St Ives. The gallery is on the site of her workshop, which looks exactly as though she has popped out to the shops for a few minutes, and includes a number of her iconic works in the beautiful garden overlooking the church and the town. Not to be missed.
2
out of
2
people
found this review helpful.
5 Stars
Jul 2008
Ms Nicholas