In a glorious position next to the River Barle, Tarr Farm does great lunches, cream teas and bistro-style dinners; choose from Exmoor lamb, Devon Red Ruby beef, fresh Cornish seafood, local venison and game.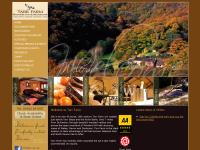 Visit Website
Tarr Farm Inn and Restaurant
Tarr Steps
Dulverton
EXMOOR
Somerset
TA22 9PY
Telephone
01643 851507
2 Stars
Sep 2014
Miss Lewis
Lovely Food, Unfriendly Service
Usual case of visitors are second-class citizens and can be treated accordingly. Great food and a great location - the efforts of the chef were wasted by the arrogant waitresses and barmaid who were just not interested. I'd rather have good food and excellent service than excellent food and unfriendly service that we had here.
Save your money and eat elsewhere.
5 Stars
Jul 2014
Mr Rodgers
The best cream teas in the world
I've been returning to the Tarr Farm Inn for as long as I can remember (at least 16 years as an adult after first going there as a child in the 70s and 80s). It is set in a lovely location overlooking the clapper bridge at Tarr Steps. I don't think I've ever got round to sampling the restaurant's menu beyond the cream tea as it is simply wonderful!

The scones are generously sized (they can usually be cut twice to give three slices per scone) and taste delicious. You get two of these. They are served with a pot each of jam and cream (which is to die for) and a pot of tea that makes around 3 cups. To add to this guilty pleasure hand made sugar lumps are provided to allow you to have your tea as sweet as you like. This cream tea will set you up for the day or replenish you after a busy morning. It goes perfectly with the location that provides plenty of options for walking and paddling.

Try it, you will not be disappointed!
5 Stars
Jul 2013
Miss Waring
5 Stars
May 2012
Mr Morgan
A warm and inviting necessity!
If you find that, like myself and my better half, you have managed to abandon hope of reaching Tarr Steps directly and are unwilling to send the car through a ford/torrent of water to follow the absurd directions it demands of you, then you will have found yourselves on the moors at a signpost which reads: "Tarr Steps 1 1/2 miles". Simple enough...you would think. The first stage of the walk is a long muddy footpath decorated on the borders with Gorse and Heather and grazed by amicable exmoor ponies. Coming to a rather muddy gate you proceed through and down a hill where the signs cut off. Take a turn to the left and follow the erosion until you reach woodland more befitting Dartmoor and then down a muddy pebbled path and out at the Tarr Steps. It's a much more demanding walk than it sounds when taken over such a rugged landscape and I have to confess I was less concerned about seeing the Tarr Steps and photo opportunities as I was about getting inside the Tarr Farm Inn for a nice cup of tea. Speaking of which, the cream tea is a little on the pricey side but given that the scones are the size of a small plate and the clotted cream and jam provided could feed a family of 5 in sandwhiches for a week then you soon realise why the price tag is such. The inn itself is wonderfully rustic with typical woodburning stove, wooden beams and general romantic Devon atmosphere. Seating outdoors on the lawn provides a lovely view of the Tarr Steps (complete with scores of tourists like ourselves) or there is a side-garden of benches set beside a gorgeous, aged Oak. The steps themselves are a fascinating attraction and mandatory photographs of yourselves stood in their centre should not be neglected.

A lovely place to stop off, admire the surroundings and enjoy the food and drink.