Set deep in the north Devon countryside, The Rosemoor estate was once the home of Lady Anne Palmer. Lady Anne developed a passion for plants when she met noted plantsman Colllingwood Ingram while recuperating from measles in Spain. Over the next 30 years, she travelled the world to collect specimens for her garden, which she gave to the Royal Horticultural Society in 1988. The estate now comprises 65 acres of land, which includes rose gardens, a winter garden, a fruit and vegetable garden, a formal garden, woodlands, and many stream and lakeside plantings, making Rosemoor an enchanting place to visit whatever the season.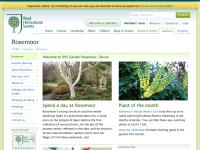 Visit Website
RHS Rosemoor
Rosemoor
GREAT TORRINGTON
Devon
EX38 8PH
Telephone
01805 624067
Fanstastic
Spent the best part of the day exploring the walks around the estate and through the fabulous formal and informal gardens, plenty of seating in the grounds to appreciate the flowers, plants and trees, choice of refreshment options from snacks to restaurant, a very good shop and parking very easy, worth the effort to visit.
Gorgeous day out
As an RHS member and regular visit to Hyde Hall I've been keen to visit the other gardens so when on holiday nearby, a visit to Rosemoor was a must. It is truly fabulous, we visited on a beautiful, sunny, summer day so we saw it at it's best but I can see how there is interest whatever time of year you visit.

The staff are friendly and we received a great welcome and explanation of the layout when we arrived, such a lovely touch.

The garden is split into two parts, Lady Anne's garden which has beautiful trees and planting best seen at a gentle stroll and the more formal gardens laid our directly near the entrance which are also stunning. The cool garden was gorgeous especially on a hot day.
Roses Galore!
The rose collection - one of the largest in the West Country - is very impressive. In full bloom in the summer, the scent of over 2,000 flowers is quite sensational. The Rose Weekend, held in June, was very informative, with advice on growing your own, as well as walks and activities for children.