The country's best collection of works by the legendary 'Newlyn School'.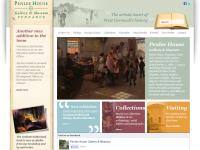 Visit Website
Penlee House Gallery and Museum
Morrab Road
PENZANCE
Cornwall
TR18 4HE
Telephone
01736 363625
4 Stars
Jun 2011
Mrs Weiner
A must for drawing types :-)
Penlee House Gallery is a haven for figurative artists - wonderfully produced art from the 19th century, those guys could draw! Amazing watercolour (and oil) depictions of fishing village life. We spent ages looking at the Walter Langley exhibition this time.

The small cafe offers snacks, tea/coffee, and lunches. Get there early if you want to lunch, it fills up, obviously with regular patrons. No gluten/dairy-free now, however (there used to be), which is a pity.

The cards and books stall offers a wide selection within the Newlyn/St Ives interest range.
A haven of tranquility in the centre of Penzance
The Newlyn School works are complemented by regular exhibitions of other Cornish artists. The recent Jack Pender exhibition was terrific. Upstairs there is also a small but fascinating museum and a historical photographic archive of the Penwith area which is not to be missed. Best of all - it's free to get in on Saturdays! (Jolly good cafe too.)