The original station was transformed into a restaurant in 2014 and is now open for lunch and dinner throughout the year. This is a popular spot for walkers and cyclists and dogs are made very welcome. Give them a call for opening times before you go as they don't open every day during off season months.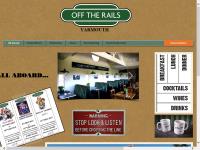 Visit Website
Off The Rails
YARMOUTH
Isle of Wight
PO41 0QT
Telephone
0709 3302138
Fantastic meal and a nice location for a bit of birdwatching
We had some great burgers and a delicious roast duck leg with a savoury waffle (loved the sauce too!) What a great location! Shame it was too cold for us to explore the wetlands and foreshore, however still managed to spot a few interesting birds on the way back to the town centre. Dogs are welcome too, which is a bonus, and they can even sample some "doggy treats"