Check out the oceans' strangest creatures and marvel at the beauty of the coral reef. With 50 live exhibits, three massive tanks, over 4000 animals, and six zones to explore- Explorocean, The Shallows, Atlantic Reef, Mediterranean Sea, Weird Creatures and Coral Seas - there's plenty to keep the family entertained. Budding scientists and ocean explorers will love Explorocean, two floors of interactive exhibits exploring how technology is being used to help us understand and care for our oceans.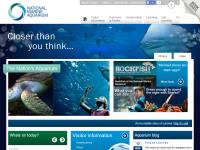 Visit Website
National Marine Aquarium
Rope Walk
Coxside
PLYMOUTH
Devon
PL4 0LF
Telephone
01752 600301
We went in the off-season (October) and found it lovely and quiet, with no large school groups or families to contend with. Not the easiest place to find if you don't know Plymouth, though the parking was good. Overall a good location for seeing the Hoe and visiting the prettier parts of Plymouth harbourside.

The aquarium is of a fair size, but we felt the website was somewhat misleading as to the grandeur of the exhibits. The shark tank felt a bit of a let down, as the viewing wasn't as good as I've seen elsewhere. The design of the place also leads to somewhat unfulfilled expectations, as after the shark tank there is more to see, but it ends quite abruptly at the turtles. With a better route it could definitely be improved, though I give 5* to the quality of the tanks and the health of the animals.