This magnificent house charts life in Victorian times. There are 50 rooms to explore, from the high-Victorian interiors of the family home to the extensive servants' quarters 'below stairs', plus wonderful gardens and a wooded estate to stroll in and an adventure playground for the young ones to let off steam. In 2014 cycle trails have been created with bike hire on site.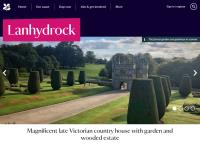 Visit Website
Lanhydrock House and Gardens
BODMIN
Cornwall
PL30 5AD
Telephone
01208 265950
5 Stars
Jun 2021
Mrs Walters
4 Stars
Sep 2020
Mr Hands
5 Stars
May 2019
Mr Ingram
So good we went twice :-)
We're NT members so usually visit nearby sites when on holiday. Highlight of this property was the amazing mountain bike trails. We'd brought bikes with us, but did hire mountain bikes for some. Friendly and helpful staff and well marked trails made it the highlight of my 7yo's holiday! We also enjoyed gardens (including Easter egg trail) and house
5 Stars
Sep 2015
Mrs Jewell
We thoroughly enjoyed our visit to the historic Lanhydrock House. First we used the cycle paths which the children (aged 5 and 8) really enjoyed. We then visited the house and gardens and were taken back in time. The children loved following the trails and it kept them entertained. The staff were extremely helpful. A great place to visit.
5 Stars
Nov 2014
Mrs Sharpe
Well worth a visit
Lanhydrock has something for everyone. The house is really interesting and the friendly guides are knowledgeable about its history. Although I didn't visit the formal gardens on this occasion, I did join an organised estate walk, which was led by rangers who were most informative and, again, very friendly. We had lunch in the restaurant, which was tasty and fairly priced. We would certainly recommend a visit.
5 Stars
Mar 2013
Mrs Hayes and Mr Crawley
Lanhydrock House and Estate is between Bodmin and Lostwithiel The National Trust House provides a wonderful insight into local history and you can also walk the estate, free of charge, by parking in the car park down by the river, close to Respryn. River side footpaths take you through wooded areas which are covered with wild flowers.
After a good walk you can drive towards Lostwithiel, on the back lanes, to the Duchy Nursery for lunch. Not only is it a pleasure to wander among the plants and trees but the shop and restaurant are designed to add ambience to the whole experience. 5 star

Lanhydrock
Magnificent late Victorian country house with expensive servants' quarters, gardens and wooded estate near Bodmin.
Visiting this house entails a drive, but it will provide you with a full day out. The house itself is fascinating, mostly because it has been wonderfully Victorianised in every detail - the kitchens, dairy and pantries are extensive - and the history of house, as well as that of the last generation of Robartes to live at Lanhydrock, gradually unfolds as you move around the house (with, of course, the help of National Trust volunteers). There are various options for lunch (picnic, cafe, restaurants) and the grounds are a joy to wander around afterwards. There are quizzes for children and the option of driving right up to the gate if a member of your party can't manage the walk down the drive.

- J Wallwork
Popular Lanhydrock
Well worth a visit for the grounds as well as the house. The kitchens are a real eye opener with all the old utensils. Walk down through the grounds to the River Fowey and the beautiful old Respryn Bridge. If you prefer you can drive down and park beside the bridge. Lovely walks beside the river.