This beautiful National Trust property is well worth a visit for its art collection, Egyptian artefacts and Edwardian Japanese tea garden. With a house, garden and estate to discover you will find plenty to keep you busy here!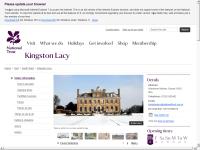 Visit Website
Kingston Lacy
Wimborne Minster
Dorset
BH21 4EA
Telephone
01202 883402
5 Stars
Sep 2020
Mrs Weate
5 Stars
May 2019
Mrs Evans
Rich History - combine with visit to Corfe Castle
Kingston Lacy (now National Trust-owned) was the home of Lady Mary Bankes who 'retired' to the house as part of the settlement of the second siege of Corfe Castle during the English Civil War. The Bankes family owned large tracts of land in Dorset, including the Studland Bay area, also now part of the National Trust. Kinsgton Lacy is a relatively modest stately home but is rich in history and the extensive grounds and gardens are a delight.
5 Stars
Mar 2016
Mr Rawlings