Overlooking the fishing port of Lyme Regis and The Cobb, Hix Oyster and Fish House is blessed with uninterrupted views of the Jurassic Coast. Simplicity of food is key here. The very best ingredients are used; make your choice from the blackboard of the day's landings and a small menu of house dishes. Award-winning restaurateur Mark Hix mastered his trade in London restaurants such as The Ivy. Just 45 covers means it is advisable to book.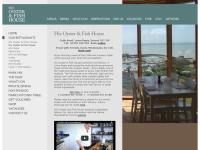 Visit Website
Hix Oyster and Fish House
Cobb Road
LYME REGIS
Dorset
DT7 3JP
Telephone
01297 446910
5 Stars
May 2013
Mrs James
Hix Oyster and Fish House
We ate at Hix twice during our week at Sea Glympse. The fish was delightful - one of the highlights was the grilled whole fish. Oysters were delicious. Staff very friendly. The first time we ate inside - the weather was not very good - and the second time we had lunch on the terrace and took Dusty our Jack Russell. Dusty was made very welcome and the waiter even brought her a bowl of water without us asking. There was nothing to criticize on either visit. Also, I was readily offered 10% discount when I mentioned that we were staying in a Classic cottage!
Our Wedding Anniversary
Our visit to the HIX Oyster & Fish House proved to be much more than just a lovely Sunday lunch out. Two things struck us as soon as we walked in - Lyme Bay stretching out as far as the eye can see and the truly friendly atmosphere. Everyone was enjoying being there, staff and guests alike. It was very lovely and very unusual to chat naturally with the people sitting at the tables closest to ours. Some guests were local, some had driven for miles to treat a friend, it was our 29th wedding anniversary.
Then came the food - I am not a food critic but am determined to do justice to it! We started with a Hix House Cocktail to set the scene – Somerset cherries soaked in Apple Eau de Vie and topped up with Nyetimber – an English fizz to compete with most Champagnes. For starters my husband had the partridge on Yorkshire toast – yes it IS the Fish House but you can choose a locally reared beef steak too! – and I had deep fried sprats with watercress and caper mayonnaise ( even though we had already had the restaurant's own smoked salmon with our cocktails ), then the most deliciously creamy House Fish Pie and the most incredible 'real' fish fingers on crushed fresh peas with mint. I didn't know which wine to choose and so gave that responsibility to Assistant Manager Tom Cook who chose a gorgeous soft La Flor, Sauvignon Blanc. My husband, a veteran cider drinker, had Julian Temperley's Somerset cider – in a lovely ceramic flask made by a local potter – what a great touch. I am afraid that pudding just had to follow – burnt cream with its crispy glazed top and a Hix Fix jelly to bring back the taste of that champagne!
We loved meeting the Chef, Phil, who showed us the kitchens and the KitchenTable where guests can sit to watch the kitchens in full swing and really savour the commitment here. Phil explained that The Fish House has a licence to bring fresh fish straight from the boats in the harbour below to the kitchen. This restaurant really 'belongs' there.
The feel-good factor of eating delicious food with a panoramic view of the Jurassic Coast will last for a long time. We had a lovely sunny day but it would be pretty exciting to eat here whilst watching a wild stormy sea battering the historic Cobb.
We will be going back again.... and again !

5 Stars
Aug 2012
Miss Hamshere
We had a really enjoyable meal. The location is so beautiful, and every table enjoys the views out over the harbour. Its well worth coming early evening or for lunch so you can really appreciate the views, as as it got dark I felt I was missing out! The food was really special, we had a great spelt rissotto to share. Our starters were delicious, I had a plate of oysters. The champagne cocktails weren't bad either. They offer great lunch deals which I want to try next time. Would go back every week if I could!
5 Stars
Feb 2009
Mr Brazendale
Simply sumptuous!
The Hix Oyster house is a must visit eatery - book a babysitter and get a really good evening out. And don't worry, you don't need to like oysters, but you might be missing a trick if you don't even try just one!
0
out of
1
person
found this review helpful.