Town smothers itself in bluebells and gorse as adults dress up in top hats and lace gowns and dance with 1,000 children in and out of houses, while dragons wrestle and the town band bellows out that tune that Wogan stole.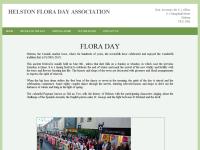 Visit Website
Helston Flora Day and the Furry Dance
HELSTON
Cornwall
If you find yourself anywhere near Helston on May 8th (or the Saturday before if the 8th falls on a Sunday or Monday), it's definitely worth a visit. This is the town's big annual shindig. Join in the throng on the streets, with dancing, music, food stalls, fairground rides and a carnival atmosphere. For the local experience, fight your way to the bar at the thatched Blue Anchor pub for a pint of Spingo, the local tipple; not for the faint-hearted.
If you've never been to Flora Day, you have to go - it's like nothing you've seen before! Be prepared though for thousands and thousands of people cramming the streets, though it's probably not ideal to try to manoevre buggies etc in the main areas (eg the Guildhall and Coinagehall Street) immediately before and during the scheduled dances - if you have a backpack or similar, this would be better, or watch the dances in a less crowded area, for instance the top of Meneage Street or Godolphin Road.