Agatha Christie's holiday home nestles on a crook of the River Dart in a beautiful woodland garden that is home to such horticultural treasures as Monterey pines, eucalyptus, China roses, myrtle and Turkey oaks. For a magical experience that's also kind to the environment, travel there by boat. 'Green ways' ferries leave from Dartmouth, Brixham and Torquay. Following a major restoration project, The National Trust has re-opened the house to the public, where quirky collections of memorabillia offer a glimpse into the private life of the well-loved crime writer. For house opening times and an events list, please visit the Web site.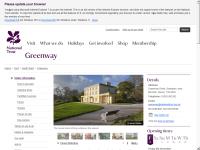 Visit Website
Greenway
Greenway Road
Galmpton
BRIXHAM
Devon
TQ5 0ES
Telephone
01803 842382
The journey to the house by way of the National Trust ferry was enjoyable as was the walk back to Dartmouth along the Dart Valley Trail and ferry (higher or lower will do, the former is cheaper). Unfortunately the house itself was a little disappointing with an over cluttered interior that did not really tell any particular story. There were bits and pieces of interest but overall it seemed as though everything from different times and sources was put in that could be which detracted. The entry to the house is timed but we still felt that it was over-crowded and NT should consider making the house visits guided only. The walled gardens were good with a beautifully restored peach house providing a highlight.
Well worth a visit to this house, an effort to get there as you can't go by car unless you pre-book. It was a nice ride there in the boat but you would need good weather. Lovely spring flowers in the grounds. Cafe/restaurant disappointing as there were no main meal available.
Enjoyed by All
A lovely house in beautiful surroundings on the banks of the River Dart. Good to see the interiors haven't been messed around with and still look as if Agatha and her family have just popped out for a minute. I can see why she loved it so much and the gardens are a delight. Thoroughly enjoyed by all - including a 22 year old male! Well worth a visit but, if arriving by car, don't forget to pre-book a parking space.
A lovely boat ride from Dartmouth, but overall the house was disappointing. A hotch potch interior and hard to believe it was inhabited up until 2004. All furniture pre-dates the turn of the last century. The children did enjoy completing their quiz sheets 'can you find' and I can really recommend the pasties in the coffee takeaway shop (not the main cafe).
An inspirational place!
This beautiful house set in wonderful surrounding is well worth a visit. It is easy to see why Agatha Christie loved this place and penned a number of her novels here. The surrounding woodlands with views of the River Dart are superb. You can take a ferry from Dartmouth to get to Greenway but we chose to take the foot ferry from Dittisham (another charming little place). I would highly recommend a visit to this lovely area.
'The Loveliest Place in the World'
Agatha Christie was right to call this the 'loveliest place in the world'. Arriving by ferry is really the best way to see it. A stroll in the pretty woodland gardens followed by some delicious homemade food in the Barn Cafe, rounded off with the return trip on the ferry makes for a thoroughly enjoyable day out.