For over 15 years Camel Valley have been producing world-class award-winning wines produced with respect for traditional vineyard practices. The beautiful location of the vineyard is key to its success. After enjoying a tour of the vineyard why not savour a glass of wine whilst drinking in the view of the slopes down to the river from the terrace.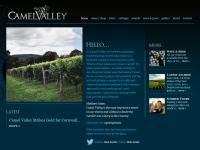 Visit Website
Camel Valley Vineyard
Camel Valley Ltd
Nanstallon
BODMIN
Cornwall
PL30 5LG
Telephone
01208 77959 e: info@camelvalley.com
5 Stars
Sep 2013
Mr Green
4 Stars
Sep 2012
Mrs Taylor
Lovely views over the vineyard & surrounding countryside from the terrace/shop and the wine we bought is lovely, the Sparkling Red is really nice, we had it chilled and we were all very surprised how nice it tasted and the Rose - need I say more - amazing. You can order online, which is what we'll be doing for Xmas. You can buy glasses of the wines at the shop to sample before you buy / or you can also buy the wine at the lovely tea-rooms just down the hill from the vineyard (you pass it on your left as you drive up). They do all sorts of snacks, cakes,cream teas, pasties, salads etc.. and wine from the vineyard...ofcourse.. Well worth a visit, but go with an empty stomach, coz you'll leave with a full one...
5 Stars
May 2012
Mrs Davies
If you're lucky, your tour will be guided by the inimitable Bob Lindo, founder of Camel Valley, whose love of the vine (and wine!) shines through his entertaining commentary and wine tasting session. The tasting session includes Cornwall Brut and the award winning Sparkling Rose Wine. There is a beautiful south-facing verandah with tables and chairs to enjoy the wine and views of the vines and the Camel Valley.