A truly beautiful 10 acre garden with unusual plants and stunning views. You will also find a tearoom, gift shop and nursery here.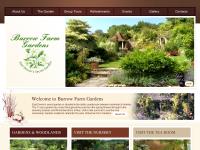 Visit Website
Burrow Farm Gardens
Dalwood
AXMINSTER
Devon
EX13 7ET
Telephone
01404 831285
A lovely walk.
This is a lovely place to visit whether you choose to pay and walk around the grounds, as we have done, or just have something to eat and browse the garden centre. The food is excellent and walks peaceful. We have never been without coming away with some plants for our garden.
A gardeners paradise
A 10 acre garden which has been lovingly created by the family of an ex-dairy farmer. The garden has lots of interest, including the Millenium garden styled around a beautiful trickling stream and a large woodland garden including some of the biggest giant rhubarb we've ever seen. There is a great little tea room serving hard earned tea and cake after you've explored the gardens. There is a nursery selling plants reared at the gardens and other garden essentials. Everything we've bought from them has thrived, so they clearly take great care in what they produce. There is a large landscaping business run by their son attached to the gardens, with further stocks of shrubs and trees to explore.