A truly beautiful 10 acre garden with unusual plants and stunning views. You will also find a tearoom, gift shop and nursery here.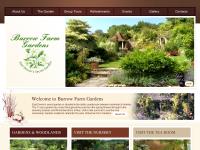 Visit Website
Burrow Farm Gardens
Dalwood
AXMINSTER
Devon
EX13 7ET
Telephone
01404 831285
5 Stars
Aug 2012
Miss Hamshere
A gardeners paradise
A 10 acre garden which has been lovingly created by the family of an ex-dairy farmer. The garden has lots of interest, including the Millenium garden styled around a beautiful trickling stream and a large woodland garden including some of the biggest giant rhubarb we've ever seen. There is a great little tea room serving hard earned tea and cake after you've explored the gardens. There is a nursery selling plants reared at the gardens and other garden essentials. Everything we've bought from them has thrived, so they clearly take great care in what they produce. There is a large landscaping business run by their son attached to the gardens, with further stocks of shrubs and trees to explore.