There has been a ferry here for many centuries, always providing a well used service. The ferry that runs today is community run and offers the chance to nip across theTaw and Torridge Estuary and explore both sides!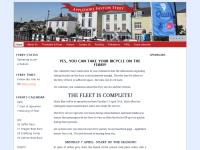 Visit Website
Appledore Instow Ferry
Appledore Slipway
APPLEDORE
Devon
EX39 1ZX
Well worth a trip
This a non-profit ferry boat crossing between Appledore and Instow. It was £6 each way for a family of four. The crossing is short but it offers the chance to visit a very different community on the other side of said estuary. Both villages have their charms and there are a range of places to eat on either side.