An underground museum telling the story of the first international cable communications.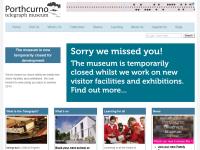 Visit Website
Porthcurno Telegraph Museum
Eastern House
Porthcurno
St Levan
PENZANCE
Cornwall
TR19 6JX
Telephone
01736 810966
Surprisingly interesting!
It sounds cliched to call this a hidden gem, but it really is! The underground tunnels housing the main museum are atmospheric and give you a real feel of the importance of the work carried out here. As a previous reviewer says, it's worth listening to the short talk given as it helps you to understand the significance of the artefacts and machinery on show, particularly if like me you don't have a special interest in this field. For a fantastic view, climb up the 'escape tunnel' built in case of enemy invasion. Lots of interactive exhibits for all ages, perfect if you visit on a rainy day!
1
out of
1
person
found this review helpful.
4 Stars
Jun 2011
Mr Powell
Porthcurno Telegraph Museum
I'm not an expert on telecommunications but both my wife and me found our visit to the museum absolutely fascinating. Take time to listen to the short talk when you enter the main part of the museum - it will add to the pleasure of your visit. There are loads of exhibits but it's not just for telecommunication buffs. The museum has a splendid area which highlights aspects of the people who worked for Cable and Wireless all over the world. There was so much to see that we went twice!
2
out of
2
people
found this review helpful.
Absolutely fascinating - not to be missed
Say Porthcurno and most people think of a gorgeous beach or the Minack Theatre. Say Telegraph and most people think of a broadsheet newspaper or an archaic communications device. Say WW2 concrete bunker and most people switch off entirely.

But it really is worth ignoring any pre-formed impressions and visiting this wonderful museum. Porthcurno is an extremely important site because it was from this beach that the first transatlantic cables were laid in 1865. The museum tells the story of Cable and Wireless in this remote corner of England. It is housed not in the highly visible building but in the vast underground concrete bunker built in 1941 to protect Cable and Wireless operations (which were of course an obvious enemy target.)

This museum is so much more than a bunch of machines: it is as much a vivid exhibition of local history featuring the people who lived and worked here. And there are a load of interactive displays to keep the kids amused for at least a couple of hours. Parking isn't a problem - the huge Porthcurno car park is right next door - and there's even a little cafe just over the road.
5
out of
5
people
found this review helpful.