Situated in south east Cornwall with miles of walks through the hidden steep-sided thickly-wooded River Par valley, the Luxulyan Valley was designated a World Heritage Site in 2006 due to its major concentration of industrial remains, the majority of which are as a result of the work of Joseph Treffry (1782 -1850). Treffry owned one of the largest copper mines which at its peak was worked by 17 water wheels and six steam engines. Treffry's viaduct, the abundant industrial remains and the breathtaking natural beauty of this area make it a truly unique site in the South West.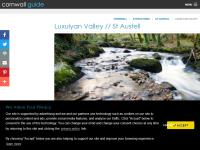 Visit Website
Luxulyan Valley World Heritage Site
LUXULYAN
Cornwall
5 Stars
Jun 2011
Mrs Amos
Wonderful free treat
Wonderful walks through woods, lots of paths, including the old incline. Ivy-covered remains of huge industrial buildings. Fascinating and peaceful on a glorious hot day with sunshine dappling through the leaves. Best of all, we had it entirely to oursleves - a rare treat in Cornwall! Finish off with a bar meal at Kings Arms Luxulyan - basic pub grub done very well and very friendly.