Classic and contemporary performances from this innovative group.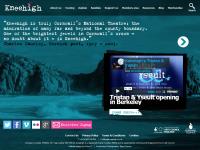 Visit Website
Kneehigh Theatre
15 Walsingham Place
TRURO
Cornwall
TR1 2RP
Telephone
01872 267910
5 Stars
Aug 2015
Miss Heather
5 Stars
Mar 2014
Simon Tregoning
Inspiring offbeat theatre
This homegrown theatre company still very much has its roots in Cornwall, but has now won national and international recognition and acclaim. Their performances crackle with a wickedly mischievious offbeat energy. If you get the chance to go along and experience one of their performances, do it!
4 Stars
Jul 2008
Mr Henthorn