Two very different species living happily in one sanctuary. See butterflies emerging in tropical surroundings at the butterfly farm and gain an insight into the secret underwater life of otters as you watch them from specially constructed glass enclosures. Visit the shop for otter and butterfly gifts. There are also facilities for treating any sick or injured otters that are brought to the sanctuary.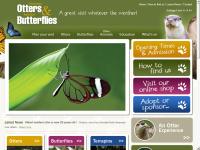 Visit Website
Dartmoor Otters and Buckfast Butterflies
The Station
BUCKFASTLEIGH
Devon
TQ11 0DZ
Telephone
01364 642916
4 Stars
Jan 2014
Mrs Barber-Brown
Lovely for children at feeding time - even in winter
We visited both the otters and butterflies a few summers ago (pre children) and really enjoyed it, so were keen to take our children (age 4-5) there this winter. In winter the butterflies are sleeping so that part is closed, but we were delighted to have the otters almost to ourselves and a near-private tour from the keeper at feeding time with lots of fascinating information about otters, the sanctuary and the individual otters there. Although it's small, outdoors and can be muddy, it's brilliant to see and hear the otters and the children's faces lit up. Usually the steam trains next door would be a great follow-up activity to get lunch in Totnes, but they were unfortunately closed due to a landslip. Lunch at the House of Marbles not far away worked great instead.