A traditional, low-beamed 16th century inn where food is seasonal and freshly cooked. The inn is in the upper part of the village so be prepared for a climb if you walk from the lower part. There's a beer garden and beer terrace over the road and dogs are welcome.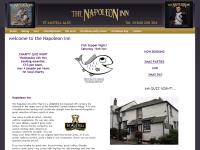 Visit Website
The Napoleon Inn
High Street
BOSCASTLE
Cornwall
PL35 0BD
Telephone
01840 250204
5 Stars
Oct 2016
Miss Gowshall
Excellent food and service, cozy pub.
The food was exceptional and extremely fresh, I had the stew and my partner had the mackerel (both from the specials menu), both dishes were delicious accompanied by fresh vegetables and salad respectively.
Well worth a visit and booking is advisable, we went on Thurday night and the majority of tables were already booked, luckily for us we were able to grab a table.
The service was both professional and personal without being over attentive, really good staff.
The beer was poured from an old style stillage which was in fitting with the tradition of the building and tasted excellent.
A great find and well worth at least 1 visit!