Magical gardens, restored by Tim Smit, who later went on to create the Eden Project. There's also a well-stocked farm shop here where you can stock up on local produce.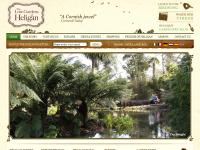 Visit Website
The Lost Gardens of Heligan
Pentewan
ST AUSTELL
Cornwall
PL26 6EN
Telephone
01726 845100
Great day out
We had a super day here- wonderful for kids,which was a surprise,they had a marvellous time...rope bridge...building a tee-pee and picnicing in it,5 adults and 5 little ones 1,4,5,5, 8.,great open areas a loads of trees and climbing fun.We too liked the greenery and open areas...good, reasonable food on offer...was expecting National Trust like 'keep off grass time etc'...our day was dull and windy but warm and would recommend and return....and guess would be even better on a sunny day!
A hit with all the family!
A great day out! The gardens, shop and tearooms had a really upmarket feel about it. Every aspect of the gardens has been put together with real love and devotion. My 3 year old daughter's favourite bit was the Jungle - she loved running down all the boardwalks. It really felt like something from Jurassic Park. A hard walk back up the hill though - especially carrying our 1 year old toddler! My husband's favourite part was the ice cream at the teashop, and mine was the impressive vegetable garden. (Forgot to mention that my daughter cried when she discovered there were no melons growing at this particular time of the year - So that for her was a real show-stopper!!) Would recommend although with caution to wheelchair users - Some of the terrain is quite tricky.
2
out of
2
people
found this review helpful.