A beach cafe in the most rustic sense - a beachside shed with some outdoor seating. It is a National Trust-owned hut, but run by a local couple who provide 'Feast Nights' - now made famous by their appearance on ITV's 'Cornwall with Caroline Quentin'. You need to buy tickets, but the hut is generally open to everyone, except during the winter, so check times on their Web site.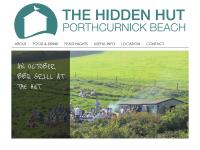 Visit Website
The Hidden Hut
Porthcurnick Beach
Nr Portscatho
TRURO
Cornwall
TR2 5EW
Telephone
N/A Email: porthcurnick@gmail.com
Best Tomato soup ever tested
Wow what a place! Nestled behind the beach and within walking distance. Absolutely amazing food, the menu is mouthwatering! Don't be put off by the queues, service is very quick. We had the tomato soup and it was 'the best tomato's soup ever tasted' ! Such amazing flavours! Definitely worth a visit! Beautiful views too! Well done the hidden hut and keep up the good work!
A lovely experience
We can now see why this place is so popular! The service is excellent very friendly staff who take a minute to ask you about your visit while serving you. The food is beautifly cooked all be it presented in a takeaway box or cup the taste is incredible. My husband opted for the smoked beef chilli I had the Dahl served with flat bread both delicious. It was towards the end of our holiday otherwise we would have had lunch there every day.
Hidden Gem
Lovely little walk from the car park where you come across some steps, if you then take the steps immediately going up you then come across the stunning Hidden Hut, where the food is fantastic, may be a little pricey, but so worth it, especially sitting on the benches
Perfect situation and great food
If you didn't already know it, this a now a justly famous spit just above a lovely Cornish beach.
Splendid food - some fusion inspired and some more typical local Cornish. Great atmosphere. Also they have now a great Hidden Hut cookbook. Such a happy mix of photos and recipes!
Being relatively local to the area, we felt it was time to see if this often-mentioned beach cafe lived up to it's reputation....and it did! On a sunny August Sunday, the beach was busy and so was the Hidden Hut. Be prepared to queue - for quite a while - but once you've selected which of the mouthwatering options to go for, you've plenty of choice of places to sit and enjoy the really well cooked food and the amazing location. No doubt this will be the first of many visits to come!
Stunning place for a delicious lunch! Pricey but great quality. Locally sourced and freshly made. Busy on Bank holidays but worth the queue. Soups are always fabulous as are the pasties, pulled pork baps and sausage rolls. We were lucky enough to get tickets for a feast night once and it was a most memorable and special event. Check out their Facebook page https://en-gb.facebook.com/thehiddenhut/