One restaurant, one beach, one menu, one excellent approach to food. Recommended in the Times (2012) as one of the top five places to eat fish!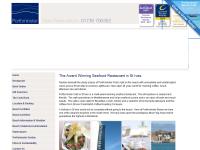 Visit Website
Porthminster Beach Cafe
Porthminster Beach
ST IVES
Cornwall
TR26 2EB
Telephone
01736 795352
Just fabulous on every level
The food, staff and views are amazing. An added bonus in these Covid ridden times is the care and attention they have given to ensuring that the environment is as safe as it can be. Great distancing, hygiene protocols, one way system etc. Most importantly, the systems are applied systematically and consistently by the staff. Great job!
Nice but VERY expensive
Agree with comments as far as very tasty, freshly cooked food and great views straight over the sea go. We arrived on the off chance and got a seat on the terrace, it was rather chilly but they gave us rugs! However you pay for the privilege, we are probably not high class diners but £66 for 2 courses for 2 people? Including £6 for what was really quite a small glass of wine? Ouchie. Stick with coffee and get your main meal elsewhere.
1
out of
1
person
found this review helpful.
great place on the beach
Walked from Carbis Bay to St Ives on the coastal path - the walk was lovely but somewhat busy. Spotted the beach cafe on our way out and couldn't resist on our way back! Had a good lunch on the beach at the cafe - dogs are allowed so a massive plus for us, then returned back to the station car park at Carbis Bay.
A delight!
This is a real treasure - we always recommend to friends when they visit St Ives. Beautifully fresh food, lovely staff and the views are just out of this world. If you want to try it out, you can just have coffee and cake - but book for lunch or dinner or you may not get in. It is great for family dining too - they prefer you to eat early in the evening with children and although they don't advertise a children's dinner menu - they do offer a selection of dishes for them.
Our favourite restaurant. Excellent food and wine. The Telegraph gave it a 10 out of 10- very rare indeed-we would give it 12 out of 10. The decor and views are outstanding with lovely touches (the wine comes in a beach bucket cooler). Imaginative fresh dishes that are simply mouth watering. Don't miss it!