This delightful pub offers a warm welcome to all. There are regularly live bands playing at the pub. In the summer months why not enjoy a drink and perhaps a bite to eat out on the decking whilst you take in the magnificent sea view!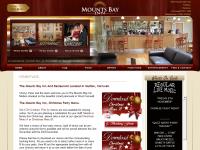 Visit Website
Mounts Bay Inn
Mullion
HELSTON
Cornwall
TR12 7HN
Telephone
01326 240221
A little mysterious, will look forward to checking out again
We went to the Mounts Bay Inn early in our week in March, as the menu posted outside the pub and on their website looked fantastic. However an arrival they advised us that food is Weds - Sun. This is fine and they've now amended their website accordingly. We had a nice drink with them. We were hoping for the fantastic view over Mounts Bay but didn't see anything of it. The rear decking area is backed by another house behind. Hopefully we just missed it and will look forward to a return visit to sample the menu. However we recommend checking out first to avoid disappointment.
Mullion's finest food
We have had some super meals at the Mounts Bay during our stay at Mullion and can assure any reader that a WARM welcome and a super Menu is in store for all who go there.
We can recommend the Pies (my favourite was the Beef & Ale) my wife say's the Chicken & Bacon Salad takes a lot of eating and was superb.
Keep up the work Peter & the Girls. Top Notch