An exceptional Elizabethan house filled with treasures, including 17th Century textile samplers and Elizabethan art. This house featured in the 1995 film 'Sense and Sensibility'.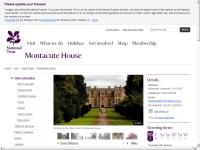 Visit Website
Montacute House
MONTACUTE
Somerset
TA15 6XP
Telephone
01935 823289
Shame.
A lovely house and location . It was a pity it was spoilt by a very heavy handed and hard sell approach in the ticket office to join the N.T. I had to be very persistent to get into the house and gardens without joining up .
Once we had managed to get in we had another issue with an officious lady in the long room who basically told us off for taking the wrong staircase up . It turned out that a rope had not been put in place . How were we to know! Other staff members tried to make up for this and were excellent but the impression overall was poor.
Very interesting
Another West Country gem to consider when in the Somerset or Dorset areas. Although the house was endowed to NT as an empty shell much work has been done by introducing surplus items from other properties and there is a current fascinating exhibition from the National Portrait Gallery which is a must.