Good food and a very laid-back atmosphere – eat outside when the weather's nice.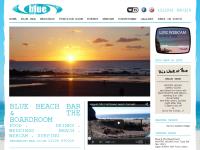 Visit Website
Blue Beach Bar and Brasserie
Beach Road
East Cliff
PORTHTOWAN
Cornwall
TR4 8AW
Telephone
01209 890329
3 Stars
Sep 2013
Mrs Creighton
Good for food and toddlers. Bad for snobby window seat competition.
The main reason for going to The Porthtowan Blue Bar is the fab view of the beach from the much coveted cosy bay window seats. Be warned you need to be quick and fairly ruthless if you want to grab one of these. (It took us a few goes to make a quick enough dash and we had to put up with some mutterings "why do they need a window seat - they've got a baby") The Blue bar isnt as quite as great as it thinks it is, but considering there isn't any real competition, the food is better than average and reasonable priced - the double fried chips are amazing. Laid back atmosphere, but not particularly smiley or friendly - mixture of surfer locals and middle class holiday makers. Bar staff are maybe more interested in their social lives than engaging with customers, which might explain the dirty highchairs - but at least there are plenty of them.
We enjoyed watching the comings and goings of the weddings going on next door - seemed to be a do on every day - as I said, you want a window seat for people watching: The escapee mini-bridesmaid running for the surf with suited and booted dad in pursuit was one highlight.
3 Stars
Jun 2012
Mr Westcott
4 Stars
Jul 2008
Mr Cornish
Good menu and a warm welcome
Right on the sand with panoramic sea views to the West from every window. Whether enjoying a summer sunset after a long day at the beach or taking a welcome break from walking in a winter storm I've always been impressed with the food served here! Not one for the real ale drinker though!
1
out of
1
person
found this review helpful.