Children, dogs and welly boots are all welcome in this newly refurbished pub, all watched over by Alan the Barrington Boar. The bar and restaurant both have good food, and the location in the centre of the village makes it a social hub for local events.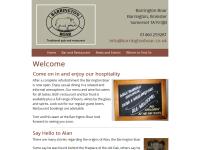 Visit Website
Barrington Boar
Barrington
ILMINSTER
Somerset
TA19 0JB
Telephone
01460 259281 E: info@barringtonboar.co.uk
Fantastic, Fantastic, friendly pub with delicious food.
friends and I visited the Barrington Boar whilst staying in the village this weekend. We first visited Fri eve where we enjoyed whole baked plaice in a caper sauce, fish pie, & stuffed aubergine with salad. The main courses were absolutely delicious. Having a coeliac in our party, we asked about gluten free & were told the sauce would not be made with wheat flour. The accompanying salads were huge, fresh and excellent - no rubbish bit of iceberg lettuce & tomato here! A mixture and abundance of salad leaves really impressed us. Desserts of lemon posset were divine, and although the brownie was overcooked, we were cheerily offered something else - no bad atmosphere here! We throughly enjoyed our meal and service was excellent - so much so that we returned on Sunday for lunch after a country ramble with moments of mild to moderate peril gave us a huge appetite. We enjoyed our meal in the garden and again, our coeliac and pescatarian friends were catered to by the owners and chef happily offering the roast dinner with no meat & extra roasties for the coeliac, and homemade Thai style fishcakes with the roast potatoes, for our other friend. An unusual combination, but the didn't phase the Barrington Boar! Again we enjoyed the divine lemon posset, and our chocolate loving friend asked for the brownie again - which was baked to perfection! Again friendly, helpful staff made our meal a very enjoyable experience. We all agreed that we would heartily recommend The Barrington Boar to all our friends visiting the area and look forward to eating there again when we return to Somerset. Thanks to all at The Barrington Boar for two truly delicious and welcoming visits!