Chic and stylish, 2 Fore Street is a French bistro-style restaurant. Sitting on Mousehole harbour-front it has views across Mount's Bay as far as Lizard point. The menu makes the most of fresh local produce with classic old fashioned fish and chips, homemade burgers with Cornish Blue cheese, locally caught mackerel smoked in-house, simple salads and toasted homemade bread. After your meal, you can relax in the beautiful secluded garden.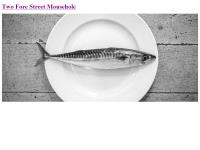 Visit Website
2 Fore Street
MOUSEHOLE
Cornwall
TR19 6QU
Telephone
01736 731164
5 Stars
Aug 2018
Mr and Mrs Cooke
We own Hillside Cottage just up the hill in Paul and have been coming to 2 Fore Street for years - morning, noon and night. It's one of our favourite local places to eat in and around Mousehole. The staff are really friendly and helpful, the menu is consistently good and fairly priced and the setting is magical. Summer evenings eating in the rear garden are a highlight.
4 Stars
Sep 2015
Mr Saward
I would agree with another reviewer that the food is quite pricey but as a family we enjoyed the experience of eating here. The service was friendly and attentive and despite being the only diners sat in (and at the very end) of the garden with the kids we did not feel excluded, indeed as evening set in we were offered blankets! As parents the children's menu is all important and, whilst not being extensive, the menu pleased our kids and the food when it arrived was well received. My wife and I both enjoyed our mains but desserts were the winners of the night.
5 Stars
Sep 2014
Ms Davidson
2 Stars
Apr 2011
Mr Cornish